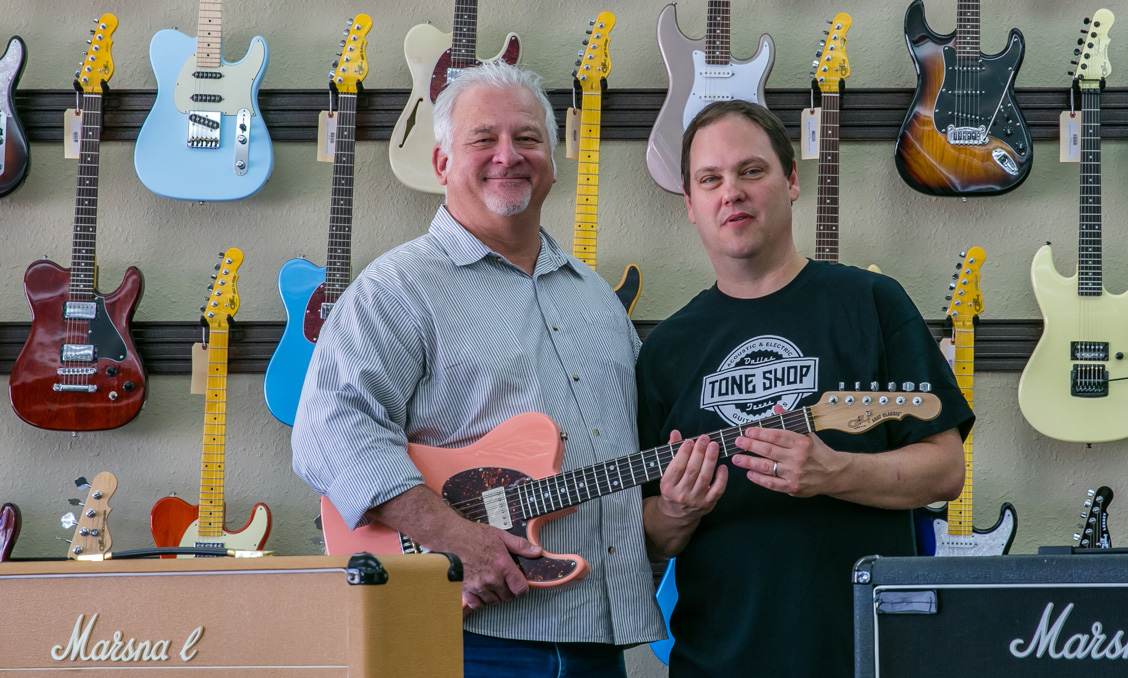 TONE SHOP GUITARS OPENS IN ADDISON, TX
August 13, 2015 2:56 pm
DF/W has a new premier guitar store for serious professionals and guitar aficionados of all skill levels.
Opening its doors on August 12, 2015, Tone Shop Guitars' first customer was SpyderPop Records' Victor Erwin, who purchased a rare, one of a kind, G&L ASAT Classic.
"SpyderPop is very proud to be the first customer of this wonderful new establishment and we look forward to securing lots of great gear for our studio and our label artists from Tone Shop Guitars," said Mr. Erwin, Director of Marketing. "It's about time somebody did music retail right again."
Founded by Grant Sheffield and Tommy Roberts, former management executives in the Guitar Center organization, the co-owners bring a combined 40 years experience to bear on a concept that promises to hark back to the days of cool gear, personalized service, skilled music teaching, and reliable guitar repair.
"Basically, we've created a store where I would want to go to shop, hang out and discuss gear – a place with a high cool factor, no corporate thumbprint, and no tragically hip elitists," remarks Tommy Roberts, a Dallas area native. "Grant and I have been friends for quite a while. His operations background and vendor relationships dovetail perfectly with my sales focus and loyal customer base."
For Mr. Sheffield, the decision was an easy one. "In this day and age of an internet retail economy, some might say this is a risky venture. What I saw instead was a vacuum in the marketplace – a high touch, old school music store where aspiring musicians and veterans could gather. Tommy and I couldn't wait to find a good location."
The City of Addison welcomed them with open arms and the two entrepreneurs haven't looked back. Boasting 7,600 square feet, Tone Shop Guitars will feature the largest acoustic guitar room in the Metroplex. The Grand Opening is scheduled for late September, 2015.