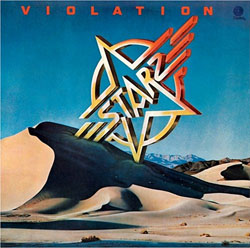 Sing It, Shout It
November 11, 2014 10:14 am
Remember colored vinyl?
I was fortunate to live in Austin from '73-'78 and I went to Inner Sanctum Records five days a week in blissful anticipation of scouring the used bin for another "these guys should be the next big thing but nobody is as smart as me" record for my ever growing collection.
In those days, you could score promo copies for two bucks and as broke as I was, I could afford to take a flyer every now and then and buy a record because I liked the cover. Which leads us to this week's pick.
Drawn in by the artwork, I slipped the record out to make sure it hadn't been used for a Frisbee or a dog bowl coaster.
It was gold. As in gold vinyl. Of course, I immediately bought it. For two bucks.
Imagine my glee when I got home, dropped the needle and BOOM! – a melodic hard rock masterpiece. From the opening twelve string runs and lead guitar intro of "Cherry Baby" to the closing floor tom fadeout of "Violation," Side 1 of Starz "Violation" is a power popsters' dream (truth be told, I never paid much attention to Side 2). You should purchase all four songs but the slight edge goes to "Sing It, Shout It."
Trust me – I'm that smart. At least I thought so then…