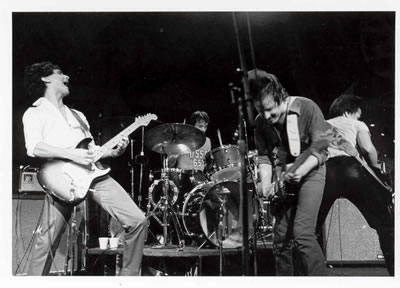 I Wanna Be Your Boyfriend
February 24, 2015 4:19 pm
"Rock and roll is dead!"
Thus sang The Rubinoos in their closing number on the 1979 dream double bill supporting Elvis Costello. The irony was that our heroes had just delivered a set of Power Pop that proved rock and roll wasn't dead after all – it was most certainly alive at Cullen Auditorium in Houston, Texas.
There were numerous highlights delivered, but my favorite number was "I Wanna Be Your Boyfriend" from their album Back To The Drawing Board.
With the opening notes of downward cascading 12 string guitar chords, you are immediately returned to the joy and innocence of teenage love in a manner we hadn't heard properly since The Raspberries hung up their shoes. The relentless bass line erupts into the call and response harmony chorus:
"Hey! (Hey!) You! (You!)
I wanna be your boyfriend
I'm trying to say I wanna be you're number one…"
Brilliant.
Buy here
Read more
Buy Rock and Roll Is Dead (because you should)
By the way, The Rubinoos continue to rock. Check them out on Automatic Toaster and on Beyond Belief: A Tribute to Elvis Costello.