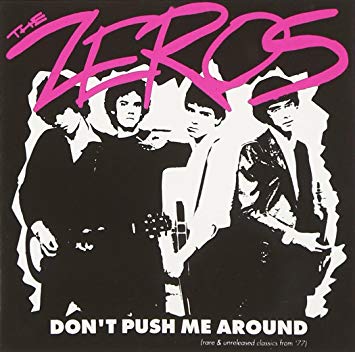 Don't Push Me Around
October 29, 2019 11:24 am
First of all, I consider the Escovedo family a national treasure.
For those of you that don't know:
Carlos Santana hired Pete and Coke Escovedo for his group Santana. Pete is the father of musicians Sheila Escovedo (Sheila E.), Peter Michael Escovedo, and Juan Escovedo; and dancer, manager and promoter Zina Escovedo. His brothers are fellow recording artists Alejandro Escovedo (Nuns, True Believers, Buick MacKane), Coke Escovedo, Javier Escovedo (The Zeros, True Believers), Bobby Escovedo, and Mario Escovedo (The Dragons). He is the biological grandfather of Nicole Richie, daughter of son Peter Michael Escovedo.
I fell in love with Javier and Alejandro when they were in the True Believers (just buy Hard Road right now) and have followed their music since 1986. The Zeros recently re-released the killer Don't Push Me Around (Rare & Unreleased Classics From '77).
I can't explain it better than this Amazon review:
"These four kids from just North of the border got together at the dawn of the Ramones Revolution and played some of the greatest punk rock of all time. Influenced by both the Ramones and New York Dolls, The Zeros put a glam twist on punk rock that was tempered by their very basic lyrics, songwriting and musicianship."
True that.